9-5 Indianapolis. This game was excruciatingly bad PawSox baseball. The best part of the game was Ian Snell pitching.
Indy
starter and handsome man Ian
Snell
went 6 1/3 innings and got the win.
Snell
walked five guys but he only gave up two hits and one run. This is because of the intense focus on plate discipline. Theo Epstein called RJ and made him tell the PawSox to never swing at anything, ever.
Dude, Mike Koplove will never die. Kop came in to relieve Snell was pretty handy for an inning and a third, keeping the lead intact with no runs or hits.
Righty reliever and gadabout Chris Bootcheck came in for the ninth inning with a 9-1 lead. He immediately gave up back-to-back doubles to Mark Wagner and Bubba Bell. WHAT. Pawtucket hadn't scored since the fourth inning and now this? Jeff Natale then singled. WHAT, again. Then Travis Denker hit a double! Bootcheck must have been drunk or something.
Bootcheck was rightfully yanked in favor of Denny Bautista. Angel Chavez then hit an RBI single. Freddy Guzman struck out, Jerk Lowrie hit a sac fly to center to score the fourth run of the inning. I'll bet the crowd was really into it at this point.
Bautista finally got McAnulty to ground out to end the inning. What a weird flurry of hits. I was at this game but I left because it was way too pathetic. I might have to start rooting for the visiting teams.
The Red Sox are now 8 1/2 games back. Yup.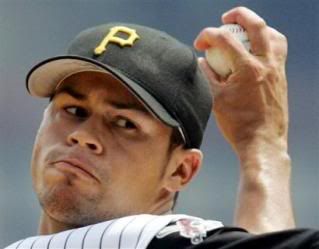 dreck:
1. Kris Johnson started for Pawtucket and it was painful and degrading. Johnson was giving up extra base hits from the get-go. Eleven hits in five innings. But only four runs?
2. Johnson only gave up four runs in spite of pitching like Abe Alvarez or something. This is partly because Angel Chavez bailed his ass out more than once. Chavez will knock you out with his fielding ability... it's a highlight reel every night with this guy.
3. Johnson's been flirting with failure all year, and it finally culminated with this game. He should probably visit the DL soon.
4. Pawtucket is DFL in the IL with only 668 hits. They are THIRD in the league for walks (329). That's like a 50% ratio. Meanwhile, the league leader in hits (Columbus Clippers), has 859 hits versus 272 walks! That's like a 1/3 ratio.
5. AND Columbus is in first place for slugging and OBP and batting average. Their pitching must suck, though, because they are last in their division. But damn, the Cleveland Indians are stacked, slugger-wise.
6. In summation, shut up, Theo Epstein.
7. Hey, Kris Johnson: Take a day trip to Portland and take a good, hard look at Kason Gabbard. Do you want to end up like that?
8. Freddy Guzman is doing his job, but he's constantly left dangling on second base after a steal. Come on, guys. Come on.
9. TJ Large made his first relief appearance in Pawtucket this year. Large was in Pawtucket 2-3 years ago. What the hell's he been doing?
10. Oh, wow: Many Pirates fans think Ian Snell is a whiny brat who can't pitch and tells lies. Well, that could wind up being
the Yankees' problem
, son.
Special Note: Where has
Ian Snell
been all my life? A
pitcher
from Dover, Delaware? I was looking up some stuff on
this kid
and his WBC story's pretty cool. It's rare to
hear about
a baseball player that's not one-dimensional. He is officially my Favourite.
Tonight! Knuckleball flameout Charlie Zink v
Tom Gorzelanny
. Yikes. Gorzelanny sez: "My prediction? PAIN."