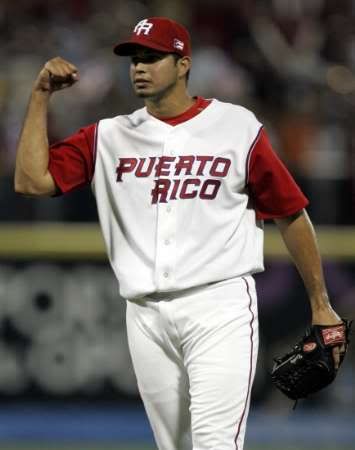 Do you remember last year when
some reliever on the Orioles
got in big trouble for
"rudely" flipping
the ball to
manager
Dave Trembley when he was being taken out?
That was our very own Fernando Cabrera! Wow!
See, what had happened was... Cabrera was pitching to Tampa Bay and he gave up back-to-back homers. One of them was a Ben Zobrist grand slam that
maybe
coulda been caught by the outfielder.
The manager comes to take him out and... flip... OUT! The very naughty Cabrera apologized and was disciplined and fined.
But the story doesn't end there. Cabrera was released a few days later, I guess mostly because he was pitching like crap (because the Orioles NEVER hang on to struggling pitchers). Trembley had
this
to say: "I think you always make evaluations based on performance first. Not everybody here is a milkshake drinker. They're not all guys that you'd want to bring home and introduce to your daughters. You understand that. But performance is the bottom line. I didn't see Fernando Cabrera fitting in on this club next year. I think we can do better. I told him I appreciated what he did, but I didn't see him making this club coming out of spring training. I think there is no substitute at any time for respect and integrity."
He's a rebel and he'll never, ever be any good. I wonder if Cabrera and Rocky Cherry and Randor Bierd ever get together and reminisce about Baltimore?