Buffalo WINS! 3-2 in ten. Reliever Chad Paronto gets the loss during his extra inning relief stint.
Matsuzaka D. went six deep, throwing 86 pitches. Dustin Richardson came in for the seventh and was accused of blowing the save when Ike Davis led things off with a single, then Mike fucking Hessman homered. HESSMANIA!!! This act of raw, sexy power tied the game up at two.
Embree nailed down the 8th inning without incident, even though hotshot Fernando Martinez was ready to rip it up. And then Paronto was the victim of Martinez busting a nut with an RBI single in the tenth to bring a win to the lovely Buffalo fans.
Pawtucket got its scoring in with hot spurts in the second and fifth. Aaron Bates hit a ground rule double off lefty starter Pat "Squee" Misch in the second and was brought home by a softy right field hit by Angel Sanchez.
And Darnell McDonald led off the fifth with a solo home run. Don't you just want to wear his sweater? Too bad it was stained by F. Martinez'
game winning single
!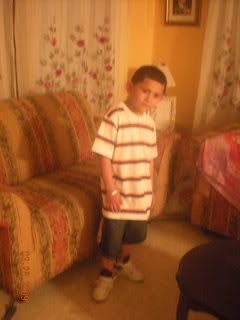 else:
1. Bubba Bell led off in place of Josh Reddick. Right now they are interchangeable, which is weird because Bubba Bell is not going to last the season in Pawtucket. And Reddick is media masturbation material.
2. Aaron Bates has more hits so far this year than he did all of last year. Yeah, I'm exaggerating. And it's early. It's good to see, though. BORICUA!!!
3. HESSMANIA!!! Hessman has
315 minor league home runs
. Would you hit that?
4. Tug Hulett took out Buffalo starting second baseman Russ Adams with a hard slide in the third. In all fairness, Russ Adams had parked like an asshole.
5. Bisons first baseman Ike Davis is the
Mets number one guy
.
6. Alan Embree got three outs on nine pitches in the eighth. He took a look in the mirror, said 'wassup'. Remember when he sat at my table? That was awesome.
TODAY. Angelic lefty Fabio Castro versus filthy Dillon Gee. Six o'clock.
MYC EXPLODE!!!!!!