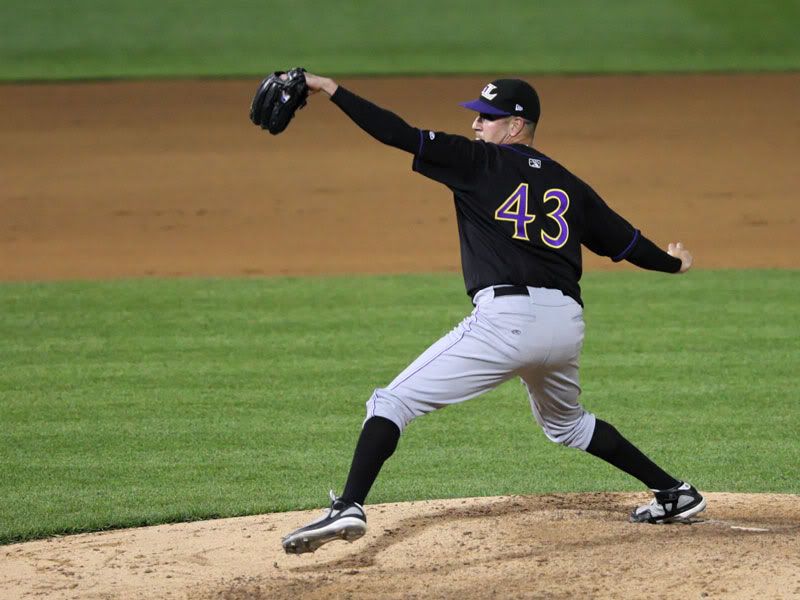 Who
, exactly, is Robert Manuel? Let's find out... together. Take my hand. Okay, now give it back.
Kinda sticky, right?
Yeah
, I just spilled carrot soup on myself. Onward! Excelsior!
Robert Manuel was signed as an independent free agent by the Mets in 2005. He's lived in Houston his whole life and attended both San Jacinto North and Sam Houston.
and now, the noise of twang:
1. Start by reading
this entire article
. Thanks, Pat Andriola!
2.
Scouting report
: FBall tops at 87, unimpressive slider, loves his change, no out pitch. (from '
Lookout Landing
')
3.
Boston
claimed Manuel
off Seattle waivers. Seattle had gotten him from the Reds for Wladimir Balentien.
4. "Everything indicates this guy is ready to make an impact at the MLB level." Wait, seriously? (
br
)
5. In 2008, MiLB
picked RM as the best reliever
in
the minors
.
6. Check out the
morale
on this guy!
7. "One area of concern is his strong fly-ball tendencies. According to minorleaguesplits.com he has a career fly ball rate of 49.2 percent (compared to just 33.2 percent GB). This is alarming considering Fenway Park's short outfield dimensions in left and right fields." from
Sabermetric Sox Report
8. "Manuel went undrafted out of Sam Houston State in Texas (is that redundant?), which may explain why he apparently has received no respect in his professional career to date. Nevertheless, he now has a career minor league ERA of 2.89 with a better than 5-to-1 Ks-to-BBs rate, and his numbers the last two seasons contain nothing to refute the assertion that he has been a major-league-caliber pitcher since the beginning of the 2008 season." -
Burly's Baseball Musings
9. Robert Manuel appeared in a few
Reds games
last year. In 4.2 innings, he did not allow a run.
10. "Manuel isn't a flamethrower by any means (his fastball barely touches 90 MPH), but he relies on deception and a good changeup to get hitters out. He also possesses big league experience with Cincinnati, and won MiLB.com's Minor League Pitcher Of The Year Award in 2008. In 36 games at Triple-A Louisville this season, Manuel had a 2.70 ERA, 10 saves, and a 38/10 K/BB ratio." -
Seattle Sportsnet
11. "Robert Manuel doesn't have great stuff, but he has BOTH (a) a miniscule, 1+ BB rate, and (b) a miniscule, 0.5 homer rate. (So he's not getting a 1+ BB rate by just giving in on 2-0.) This makes him a Bob Tewksbury of the minor leagues." -
Seattle Sports Insider featuring Jemanji
Was that good enough? I think so!