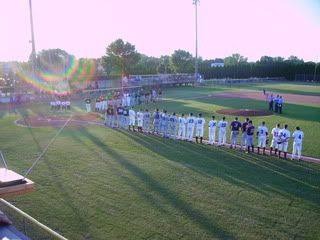 I cannot express how much I love
Rochester's Jim Mandelaro
. He is my favorite IL blogger/journalist.
CF Matt Tolbert
SS Trevor Plouffe
2B Luke Hughes
C Wilson Ramos
DH Erik Lis
1B Brock Peterson
LF Jacque Jones
3B Danny Valencia
RF Brian Dinkelman
SP Anthony Swarzak
Since I'm unable to find a lineup for Pawtucket, I humbly submit my own:
CF Josh Reddick
RF Darnell McDonald
DH Tug Hulett
LF Daniel Nava
C Dusty Brown
1B Aaron Bates
2B Kevin Frandsen
3B Jorge Jimenez
SS Angle Sanchez
ANGEL! ANGEL!! NOT 'ANGLE'! I made this fucking typo all last year with Angel Chavez. I'm better than this!
Boof Bonser is starting, Bowden is in the middle, Alan will get some work in as well. I retract my Bonser chagrin from yesterday - he was on the Twins, so he's cool.
JACQUE JONES!!!