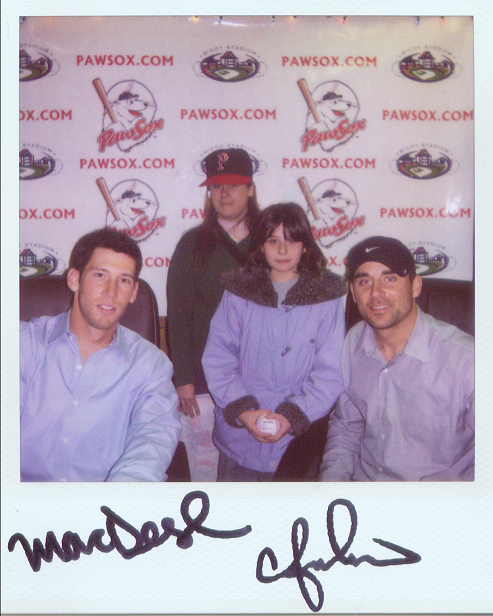 JS WINS! 4-3
I'd like to do a Bill Mueller-style first and foremost... if not for Bob OCD and his Polaroid camera and weird people skills, I'd'nt've had half the time I did. So... here's my tribute to Bob: Thanks, Bob!
I started the morning by collecting my Fake Daughter and treating her to breakfast at The Townhouse. Home fries execution is crucial and the T'House did a good job. I enjoyed the green pepper bits. Obviously I have not picked up my copy of "
No One Cares What You Had For Lunch".
Got to McCoy early to meet up with Bob & son and there was quite a long line. I picked up a bunch of opening day tickets and waited in line with the kid. And then we were in! Free PawSox Xmas pennants were handed out at the gate. For kids only! I did not see Bob and his son. We lined up at the home team clubhouse entrance to wait for our chance to see Breslow and Deschenes. I passed my cap to the kid so she could have it signed for me. You really should have seen the plush execu-chairs CB and MD were lounging in. Both guys were very nice, clean, and handsome.
After we hit up the lefty/righty combo, we headed for the visitors' clubhouse. Portland SeaDogs outfielder Chris Durbin was there alone, sitting in a folding chair like a second class citizen. I felt sort of bad for him. And still, no Bob.
We went to the souvenir shoppe, bought a baseball, lined up again for both autograph tables. The players were very nice. I thought about asking Marc Deschenes if he'd seen Bob, since he seems to know him.
Finally, Bob! Again we get in the Breslow/Deschenes line. Bob talks to Marc at great length about many, many things. At this point, no one's really waiting for autographs, so Bob has plenty of time to talk. Marc Deschenes is odd-jobbing his way through the off-season. He's enjoying it, but is ready to start playing again.
We stepped out of the clubhouse for a few minutes and checked out the Wiffle cages. Then Bob says, "Guess who's here?" And I had wondered if he'd pop in. I knew in a moment it must be St. Nick! Or Jerry Kapstein!
Kapstein was in the clubhouse talking to the pitchers and I just couldn't help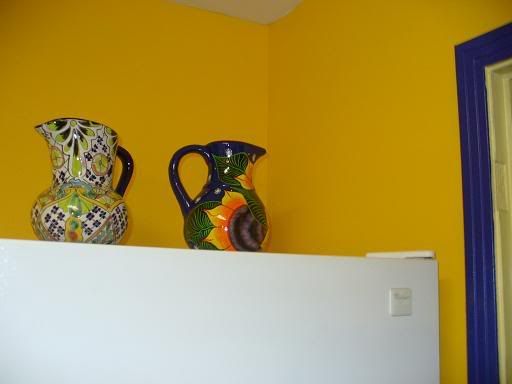 myself. I walked right up to him and shook his hand... he was wearing that big tan coat. Bob busted out his Polaroid and we all started taking snaps of various me/Kap/kid/Bob/Bob's kid set-ups. The funny thing was J-Kap kept saying, "How about one more?" He kept several of the photos for himself and said next time we were at Fenway to come down and say hello. He is, as you can imagine, a very, very nice guy. He did manage to work God into the conversation, but I'm willing to let that slide. He is, after all, a judge/scorekeeper/sports agent/consultant/scout/Rhode Islander.
We hung out a little while longer. Bob kept talking to M. Deschenes and finally called me over and said, "Tell them about Rochester." So I went into my crabfest about using a good reliever v. using the rehabbing Foulke and losing the game. I was worried later that I'd come across as a whiny fan, but I'm telling you... they were right there with me! MD was all... "Yeah... we lost that game, didn't we?" Oh, he remembered! He was totally falling in love with me. Breslow must have wondered why we all loved Deschenes so freaking much.
That's really it. The kid, who wants to attend the
Ken Ryan Acadamy
and eventually pitch, wanted to play ball in the worst way, so we went down to the fields near the prison and chucked the ball around.
"It's not real gold! It's brass!"
Kapstein photos to come...