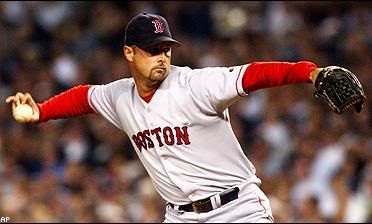 I think Tim Wakefield lives at Fenway park. I think they toss a Globe onto the warning track every morning and Wake shuffles out in his robe and slippers from behind the monster to get it. I think he's got green paint chips in his bloodstream.
Even though he is a starting pitcher, he's out there on the bench for pretty much every game. Big coat on, hands in the pockets, watching. He's in the background of every player's return-to-the-dugout-after-making-an-out TV shot. Total baseball.
When most people go to Fenway, there is a one-in-five chance that Tim Wakefield is pitching. In my case, it seems to be fifty-fifty. In the past I may have been bored with it all but de hoy en adelante I will be happy about it. I can't take it for granted anymore. What a great manager he will be.
I just wrote a song about Tim Wakefield.