Minnesota makes mince meat of Mets, 9-0!
Okay, I was expecting the worst of Shea Stadium, since everyone talks about what a freaking dump it is. So I was surprised to find it not amazing, but not an unflushed toilet of ratshit and puke either. It seemed pretty clean to me. Yes, it's uninteresting, but what the hell? I especially liked the bathrooms.
Jorge Sosa started for the Mets and pitched, what, 3 1/3? Then Aaron Sele (!) came in. He's still employed? Gosh, who else pitched? Guillermo Mota and Scott Schoeneweis, that's who!
I was so excited to discover Santana was pitching for the Twins when I got to the park. He started off mildly sloppy, but then the rest was mayonnaise. Nine shutout innings. He also hit a double, which was funny in a way that people who don't watch baseball and don't care, don't get.
Jason Bartlett was defensively tack-sharp and nearly acrobatic at short for MN. Not too bad for a pear. And you'd think that since they scored nine runs, the Twins whacked the hell out of the ball. NO! You know what? The Mets had FOUR errors! YES! No one hit a home run, which didn't surprise me because it looks like a hard park to knock one out of.
So, yeah, the nine runs were a few scattered hits, walks, and errors and such. Jeff Cirillo had three hits.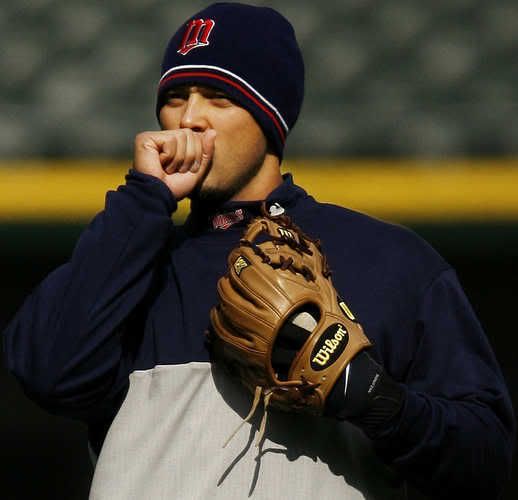 I do like the Mets, but I REALLY like the Twins. I was struck by a ketchup packet from behind, possibly tossed at me for openly rooting for MN. But, look... I also cheered for Jose Reyes and Carlos Delgado and JULIO FRANCO when he pinch hit.
Two things:
1. Lew Ford was not in the lineup, but I did see him hanging out in the dugout. I have unexplainable love for him.
2. Santana has freakishly football-broad shoulders. It's like he forgot to take the hanger out of his jersey.
3. Michael Cuddyer caught the last out in RF. I saw him give the ball special to Santana during the post-game high-five line.
4. I forgot how much of a hit David Wright is with the ladies. But as a lady, I do not think he's all that. He's blonde and bland.
5. I'm a wicked sucker for the Kiss Cam. I am delighted whenever they show it on the JumboTron. I also try to snuggle in with strange men in the stands in hopes of scoring a smooch. Yay!
6. The food situation at Shea was dismal. DISMAL. I do not expect much from a ballpark, but come on. I had to eat popcorn! Like an animal! And it was $4.25! !!! That is NOT RIGHT! Popcorn costs 25 cents a silo!
7. This is one of my top five MLB games ever attended. By me.
8. I wanted a Mets t-shirt that was Spanish-language oriented. 'Los Mets' would have been sufficient. But no.
SANTANA!!!