Pawtucket WINS! 4-3
LHP Kason Gabbard v RHP Blaine Boyer
Gabbard: Six innings, two runs, three walks, four K's. Next up: Hansen in the seventh with a 3-2 Pawtucket lead, which he blew. He may be worse than Mike Burns at this point. Good Ol' Brian Corey pitched 8 & 9. He struck out two and got the win. Good Ol' Brian Corey.
Blaine Boyer: Two innings, five hits, three runs, two walks and a strikeout. Second night in a row the Braves' starter has only pitched two innings. CRAZY! Then Trey Hodges. Then Buddy Hernandez. Then Jeff Bennett. Then Richmond goes back to the Days Inn all sad because they've lost to a shitty team like the PawSox.
Four PawSox players had doubles. Can you guess who? I'll give you the hard one: Michael Tucker. The other three should be easy. Note: Jeff Bailey did not double. God, it's like a Penny Press logic problem! Also, Mabel did not bring cookies on Friday.
George Kottaras hit a solo home run in the ninth which I guess was a walk-off. It's a little unfair, don't you think? That's twice in one week for the Little Catcher That Couldn't. Brandon Moss deserves it more.
David Murphy batted third as usual but he DH'd. They have been messing around with the Three Amigos lately, sticking Moss in left and whatnot. He struck out three times, which is exactly the production you need from your DESIGNATED hitter.
Brayan Pena and Larry Bigbie had an RBI each. Corky Miller had a hit and an error. If you haven't already guessed, I think Miller is sort of interesting. From an anthropological perspective.
don't get mad, get glad: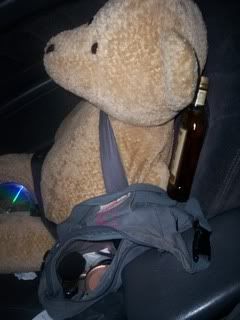 1. Seriously, what is the deal with Craig Hansen? Wasn't he supposed to be good or something? The man can't even handle AAA hitters. Elbow soreness? Or is it the other thing? He also looks out of shape.
2. Let's hear it for Brian Corey. Yay, Brian. Yay.
3. PawSox source: Ellsbury is getting called up, no doubt, no question, sooner rather than later. By 'source', I of course mean the only other weirdo Pawtucket fan I know.
4. "Blaine Boyer likes to keep the ball low, specializing in a nasty, low-90s sinker and a hard curveball. His stuff gives fits to right-handed hitters. However, he has a tendency to get overexcited on the mound. His arsenal lags after the sinker and curve and left-handed hitters see him too well." (from the Canadians)
Last game of the homestand tomorrow. I will not be attending. Next up: Indianapolis!