Imposter Ross Ohlendorf WINS!
4-1
.
I got to the park just as the game was starting and spent a little time in the outfield. I played right, just to show Alex Hassan how it's done. But, seriously, I thought Ohlendorf looked different. Thicker. And then I moved infield and I noticed GAAAAH NOOO MUSTACHE!!! Good grief, Ohlendorf. Or should I say, 'Oh;endorf'.
Oh;endorf was good last night, pitching six innings and striking out six. He allowed three hits and a walk, but no one scored. Not even sexy Josh Kroeger, who's a real smoothie... Wait, where was Kroeger last night? Probably at your Mom's house. Ooooohhhhh... But my point is that I have never seen Oh;endorf pitch so well, so efficiently.
His due date's coming up
and he can either stick around or run for the hills. If Rhode Island had hills. Which it doesn't. Just a bridge, sir.
Starting pitcher for Toledo was surprise dinner guest Adam Wilk. Wilk also pitched six innings, but his results differed. Pawtucket scored first, in the second inning. Nate Spears hit a solo home run. Isn't he getting a little old for this? Doesn't Nate Spears look like Blake Schwarzenbach?
The
Red
Sox scored their second run in the fourth inning. Catcher Ryan Lavarnway doubled and Mauro Gomez batted him in. Gomez! Shine on, you crazy diamond!
Seventh inning, Clayton Mortensen pitching in relief. This is the part where I decided to leave and go get a
milkshake
, mostly because I am a fatass but also because I didn't want to see Oh;endorf's work undone by some hack-ass reliever whose head looks like an olive balanced on a firehose. And the overzealous usher double-checked my ticket! Okay, as if I would sit in these crappy seats unless that's where I was supposed to sit? And I also had a Blackstone Valley Media Club meeting, so I had a lot going on. Mortensen walked Ryan Strieby, shortstop Audy Ciriaco singled and scored Strieby. Nate Spears made an error, Mortensen walked Justin Henry, the fans' butts clenched up in anticipation of a blown lead. But left fielder Ben
Guez
popped out. Everybody exhale.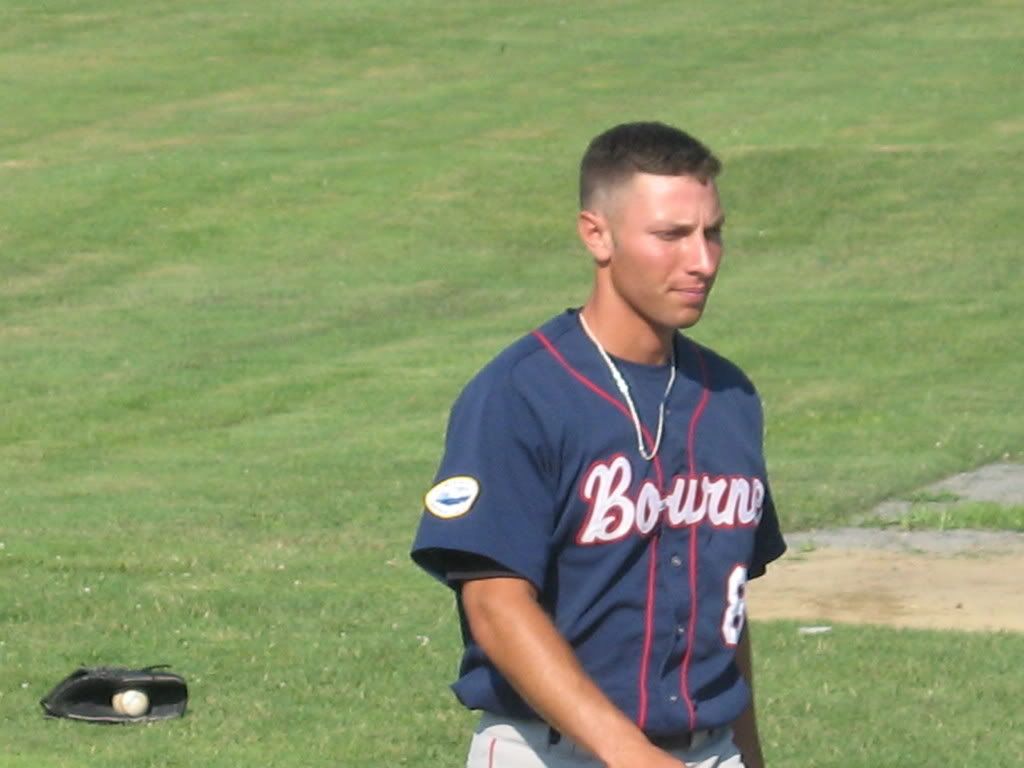 Bottom of the seventh, Pawtucket up 2-1, Wilk out and Rob Waite in. Tony Thomas singled with one out. Where's he been, anyway? Thomas stole second, moved to third on a Bermudez ground out, and scored when Pedro Ciriaco singled. Just a reminder: Pedro Ciriaco rules. I think he is wonderful.
The PawSox scored their fourth and final run in the eighth inning, thanks to Hassan's RBI single. Lavarnway was the dude on base that scored, in case you can't get enough Lavarnway talk. RYAN LAVARNWAY LIKES LMFAO!! ALSO HE BUYS ALL HIS CLOTHES AT THE MALL BECAUSE HE LOVES SHOPPING!!! LAVARNWAY LOVES TILA TEQUILA!!
Will Inman and Mark Melancon pitched the remainder of the game and allowed no further runs. I feel like I told that joke already. Okay, I'm pretty sure Melancon's ready to go back to Boston, now! Put your oven mitts on, because Melancon's timer went off! 15-20 MINUTES AT 375°!
brad eldred could be the next mike hessman:
1. Ronald Bermudez is back. I just saw him in New Hampshire, too. How did he make it to Pawtucket so fast? Who drove? Did Bermudez chip in for tolls?
2.
Over the Monster
on Melancon
: "He's rediscovered the strike zone, and is reportedly throwing inside to hitters once again. All he was finding in the majors was the fat part of his opponent's bats, so a return to form for the reliever who missed plenty of bats in 2011 while simultaneously inducing grounders is a welcome one." Marc Normandin also discusses Iglesias and Oh;endorf, so you should probably go read it.
3. Everybody says it, everybody knows it, but not everyone gets to see it. So can I just tell you that Jose Iglesias is like an infield wizard? It is remarkable to see him in action. Also, Iglesias hit a ball deep to right and Matt Young laid his testes on the line to catch it. Good work, Matt Young.
4. "Crockett said today that "OF J.C. Linares will not be joining the PawSox anytime soon." (per Brendan McGair on Twitter)"
WHAAAAATT?!?!?!
TONIGHT! Young Jacob Turner will tremble before Justin Germano, who sings sweet lullabies to his children then wakes up and mows down batters. And Darnell McDonald will be there. Dare me to talk to him? Dare me? I have a few questions...
Paz afuera.