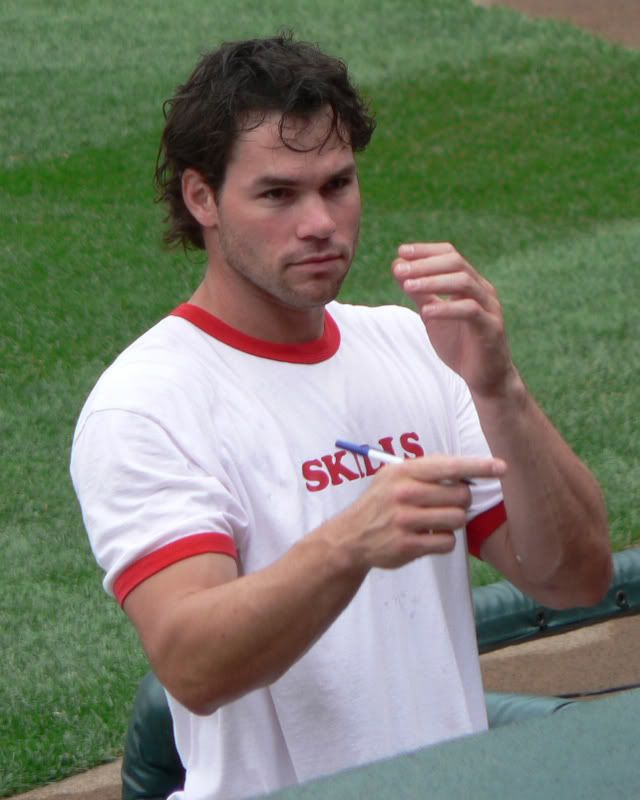 Several months ago I was driving home from work. I turned on the radio. Suddenly, the maid screamed. They were doing a little first person story on a bsaeball player and his wife and they were talking about all the moving around they had to do since the baseball guy kept getting traded. They'd moved like 50 times. And it was a
darling story
. I don't know how these guys do it.
That man was Adam Hyzdu! And the funny thing was my sister had heard the exact same story! Also, neither one of us contributes money to public radio.
Hyzdu got his start in the Pittsburgh system, most notably with the Altoona Curve. He was there forEVER! And, oh my gosh, they loved him in Altoona. He was their AA superstar, setting all kinds of records. They retired his number there, too. 16 - good number.
In 2000, Adam Hyzdu got into his first major league game with the Pirates. He was 28 years old.
In 2004, Hyzdu was Boston property. He did some time in Pawtucket that year and was a bench guy in Boston. Mostly outfield stuff. Perhaps he pinch ran. He was a good kid. In Pawtucket he played with guys like Andy Dominique, Tony Schrager, Brian Daubach, Matt Duff. Oh, that takes me back. He got shipped off to San Diego in exchange for Blaine Neal during the off-season but came back in exchange for pitcher Scott Cassidy. 2005 rolls around and Boston doesn't really need Hyzdu any more so he's released.
After spending 2006 with the Rangers, Adam Hyzdu has signed a one-year contract with Japan's Fukuoka SoftBank Hawks. So that's '07. And that's it.