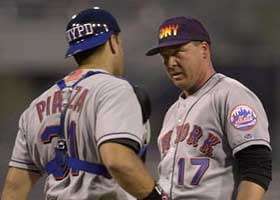 In June of 1989, the Kansas City Royals were visited by a right-handed angel from California - Kevin Marie Appier. This was his big debut and many people have seen the results of his outing. In 1990, Ape was on the regular, going 12-8 for Kansas City and was awarded Rookie Pitcher of the Year. It is still unclear whether this is a plaque or a trophy or a gift certificate to PF Chang's.
Appier spent his subsequent years in such films as 'AL West: Angels and/or Athletics' and 'Meet the Mets: The Gathering'. When he was not successful, he was either unsuccessful or undergoing surgery. He pitched his way through the 90's, using clubhouse equipment and gathering statistics. In later years, the Angels sent Mo Vaughn to New York in order to bolster their pitching. This is what is commonly known as a 'Typical Mets Trade'.
Ongoing surgical procedures led to Appier's retirement in 2004. He had a substantial soybean farm in Kansas that needed his attention, so he went home to TCB. When he realized that he was able to throw firewood onto a pile with no pain, he decided to give baseball one last chance. The Mariners were crazy enough to give him a shot, but not crazy enough to use him in Seattle. Instead, he hung out in Tacoma and played with the AAA Rainiers. This was not exactly what Appier had in mind, so he asked for his release and got it.
Although Kevin Appier is retired from baseball, he is not retired from charitable activity. This quirky, affable man continues to work with battered women and disabled veterans and the Special Olympics. American Legion halls throught the country await the day that the unfogettable Kevin Appier appears at their Baseball Card Show and Fund-Raising Auction to sign autographs for his millions of fans.