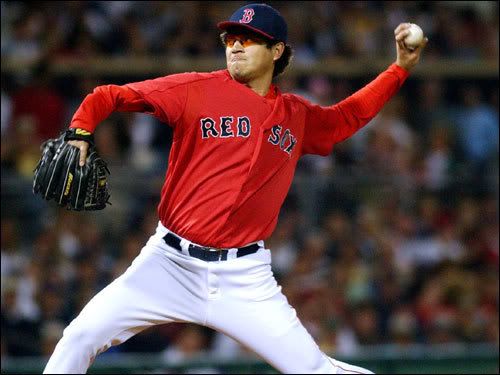 Thanks for all your efforts, Bobby Scales. We hope you enjoy scenic Pawtucket, Rhode Island this summer. Only 20 short minutes to the beaches!
I find it a little off-putting that JD Drew is wearing number 7. I also read somewhere that he is on that diet where you only eat foods mentioned in the bible. That is awesome. Sure, you can eat brassberries, but you can't sprinkle them onto an English muffin.
Curt Schilling has a blog and it is pretty boring. I am not just saying that because of any personal problem I may have with him. And I do not expect state secrets to be revealed. But come on. You know whose blog I would read? Brendan Donnelly's. Maybe Javier Lopez, the worldly continental lefty pitcher. Alex Cora. Kevin Youkilis.
Other guys likely to have a boring blog: Jason Varitek, Tim Wakefield.
Okay, that's it.