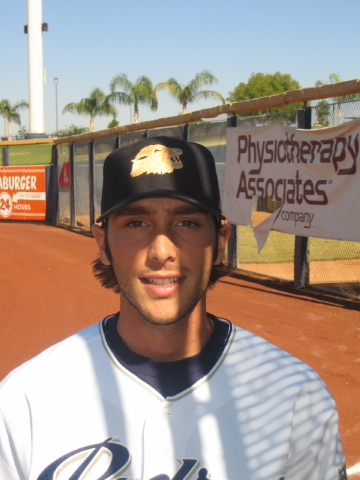 "Athletic, switch hitting C. Med. frame. Not overly phys. and there is not much room for him to put on much more weight but he needs to get stronger. Quiet setup @ plate. Slightly open, hands low with bat resting on shoulder. Solid avg BS. Centers ball ok. Approach is dead pull.

Frustrating to watch a kid who has a good feel for the strike zone try and pull everything when he does swing. Casts hds out and gets around the ball hooking everything. Doesn't show any interest in working on it as he continues to jerk balls in BP while his coaches pepper the outside corner and chastise him. Can get enough mistakes to hit @ this level and doesn't miss them but @ ML level I have to believe he will be pounded away and forced to adjust.

Pretty serious pop for a little guy. 50-55 raw power. Will play to 10-14 HR/yr @ ML level. Should run better given athleticism. Moves around smoothly and sets up quietly behind plate. Would like to see more looseness and flexibility as he sets up narrow with his feet which hurts his mobility. Soft confident hands. Active receiver. Cheats open a bit with runners on base. Strong avg arm with extra kick and carry as it gets towards the bag. Easy and fluid, albeit a bit long release. Gets underneath throws but moves thru them well which allows him to stay down. Should have no problem catching @ ML level. Approach will make it difficult for him to hit with any consis. Looks like a very solid backup catcher who's simple swing will serve him well as a late inning pinch hitter. If he learns to use whole field he can be an everyday guy."
source: see previous scouting reports