Toledo WINS! 8-5.
Winning pitcher? Toledo's
Andrew
Oliver
, who provided a near-even distribution of five runs through five innings. Oliver gave up a couple of home runs and struck out six.
Robert Coello got the 'L' for Pawtucket. That damned fifth inning! Coello was cruising with a 5-3 lead into the fifth, but gave up a couple of singles to start the inning which certainly helped Jeff Frazier's three-run homer. Duh.
Mud Hens relievers Casey Fien,
Daniel
Schlereth, and
Jay
Sborz
allowed no further PawSox running around advancing behavior and held on tightly to the lead.
Dusty Brown hit a home run and Mike Lowell hit a home run and the Plasma Center is only open on Mondays and Tuesdays and Wendesdays, Thursdays, and Fridays; Saturday and Sunday it's closed.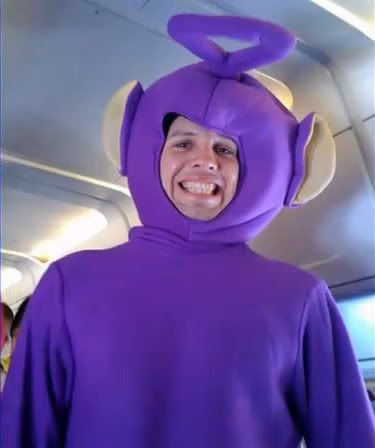 sleep, ryan strieby, do not cry:
1. Toledo left fielder Jeff Frazier hit two home runs and
wonders if it's enough
for a call-up. Casper Wells hit a solo home run in the second.
2. Gil Velazquez' hotness of late has earned him a ride up to the two-hole in the lineup. Velazquez responded by not getting a hit and striking out twice.
3. Ryan Kalish went 0-5 with two strikeouts. Hannahan was also hitless.
4. Mike Lowell went 3-4 with 3 RBI. If he's trying to impress the ladies, it's working. I certainly wouldn't mind bringing him a tray of fine nougats and cheeses.
5. Andrew Oliver = Andrew Miller? Enjoy Oliver's scouting report and other stuff
here.
6. Reliever M. Bowden pitched the eighth inning for the Red Sox and gave up two runs on four hits. Whatever, it would have still been 6-5 anyway.
7. Casey Fien!
Fien was claimed
off Detroit waivers by the Red Sox in March, then claimed by Toronto a few days later when Boston put him on waivers. Toronto released Fien a week or so later and he was signed by the Tigers.
8. Reliever Daniel Schelereth
used to have a blog
. I can't tell if he's really hot or really weird looking. And his
dad
was a
football player I've never heard of
!
9.
GAAAAH
! NOT HOT! NOT HOT!
Tonight! Doubront v LJ Gagnier.
Thank you, boys
!