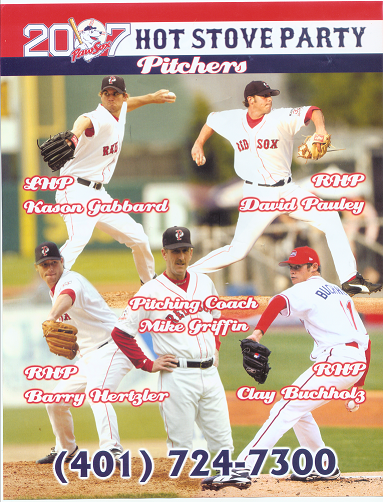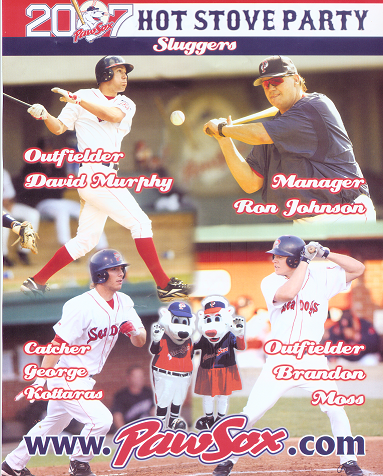 I don't want to get too sticky here, but I really cannot tell you how cool it is that the PawSox do this every year. Where else can you interact with highly ranked prospects, get innumerable autographs, get to hang out in the batting cages and clubhouses, and cram your gullet with as many hot dogs and Jax and soda pops as it can hold? And all for FREE? Not only that, but you get to see all the pennants and trophy cases and newspaper clippings and awards and such lining the hallways that dudes like Trot Nixon and Don Aase have strolled down. Truly fucking tremendous.
It was cold. Windy. And... not too crowded. I was wrong about that. They were passing out free issues of Baseball America at the gate.
Okay, in the workout/batting cage room, we had some pitchers: Clay Buchholz, Kason Gabbard, and David Pauley. Pitching coach Mike Griffin rounded out the quartet. The pitching kids had some unholy, ungodly footwear. In Gabbard's case, it should not have surprised me, as I often saw him in the most heinous of man-sandals during the season. But... cowboy boots and saddle shoes? WTF?
There were a couple of Q&A sessions with these guys. Nobody asked any good questions, which is what happens when you give the microphone to small children. David Pauley was totally Hollywood... I talked to him briefly afterward and I think he thinks he's hot shit. Mike Griffin was great. Says he has not worked for a place better than Pawtucket, which may have been applesauce, but he sounded sincere to me.
In the PawSox clubhouse, we had the stickmen: David Murphy and George Kottaras. Ron Johnson was in there, too. RJ is a Texas giant up close. He is also quite the raconteur, like most baseball oldsters. More Q&A. Pretzels and ice cubes all over the floor.
In the visitors clubhouse, we had Brandon Moss and his shiny halo, and Rhode Island kid Barry Hertzler. Hertzler looks like a right handed Lenny Dinardo. More Q&A.
And that was it. I did not get any autographs, even though I stood in line. I got introduced to this one hardcore autograph guy (one of those dudes with the binders and junk) and he said, "Are you the woman that loves Marc Deschenes?" He said he had taken a picture of him for me. He also said... hang on... he said that there's an usher in Portland that is also his number one fan. A lady.
So you listen to me, usherette. You may have seen him first but he's with ME now. So STEP OFF!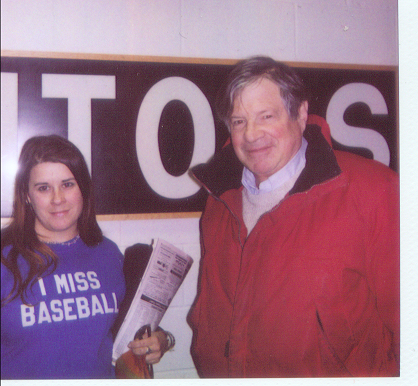 Oh, Jerry Kapstein was there. As was foretold.