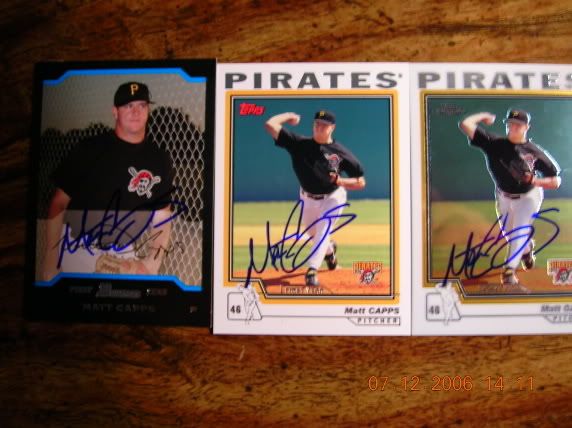 Say you have the Pirates, the Giants, the Knicks, the Quakes, the Packers, the Penguins, the Fisher Cats, the Sox and the Rox.
Then you have the Jazz, the Curve, the Wild, the Spirit... okay, I can't think of any more. I'm not sure how I feel about singular object team names.
I was at a party once and I was talking to this gent about different things and he said he was from Altoona. Home of the Curve, says me. And he was flabbergasted that I would know that.
Oh, but you have no idea.
So in Altoona Curve news, now that The Nation's Number One Closer Mike Gonzalez has busted out of the Pirates' org., some kid named Matt Capps might be all up in there. The Pirates' AAA team is in the IL, but I don't remember seeing this guy. You don't forget a name like Capps.
A few things about MC:
1. fastball guy who needs to work on off-speed stuff... which, you're pretty stupid if you don't have that kinda repertoire going into the majors
2. he saved 7 games in AA Altoona
3. he's 6'2" 245 which makes him... husky
4. he ain't afraid of nothin' and has the balls of a burglar
5. pitched in 85 games in Pittsburgh, mostly as a set-up guy
K, good luck.