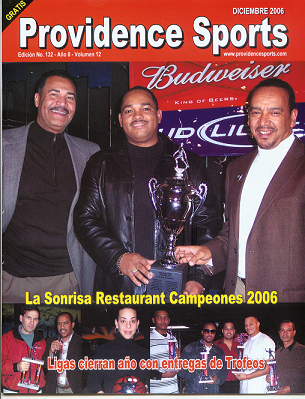 There's a Mexican grocery on Broad St here in The Central Falls called "Tierras Mexicanas". It is a great place to go if you cook a lot of Mexican food. Or if you're Mexican, I guess. But if you go all the way to the back of the store, there's a kitchen and a lady and you can get some eats. I love this store.
The last time I was there I noticed the free publication "
Providence Sports
". Never heard of it, which is a shame since it's been published for eight years. Damn! It's written entirely in Spanish, but if you took it in school you should be all set. It covers professional sports and local amateur sports with a focus on Latin players.
One of the greatest things I read about in the December issue was La Liga Brava, which is a Latino softball league in Rhode Island. I am completely blown away that I have not heard about this before. There're quite a few baseball articles and the columnists do a great job infusing them with wit and good humor. I love it.