RED WINGS FLAP HARD ENOUGH TO BLOW SOX AWAY 6-1
RHP Clay Buchholz v. RHP Kevin Slowey
Buchholz pitched great. So it was disgusting to see Edgar Martinez blow it. I knew as soon as I saw him trotting out from the bullpen out in left field. I knew the game'd be fucked. I left during Martinez' debacle because I wanted to watch the Boston game, but maybe I would have left anyway. He gave up four or five runs, then Lincoln Hodzkom came in and maybe gave up another, I don't know. I was gathering my belongings and trying not to slip on the damp stairs/concourse.
Slowey is big-league bound but he didn't pitch all that well. I know he only gave up one run, but a better team would have scored more. Seven runners LOB.
Jed Lowrie continues to have that High-Pro Glow! He's got a nine game hit streak going. Joe McEwing made some great defensive plays at third base. George Kottaras got bowled over at home by Tommy Watkins and was laid out for a few minutes, but strapped his gear back on. Damn it. I wanted him to leave the game.
Darnell McDonald went 3-5 for Rochester. I saw him getting stretched out before the game and it was mesmerizing.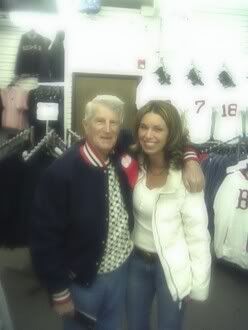 a little relief in sight?
1. This game was gross. For once I'd like to see Pawtucket "come from behind" by "scratching out a few runs". Once the PawSox are down by a run or two, they're done. Defeated. It didn't help that Boston lost, too. Or that the disgusting Yankees won.
2. Legends Night! The park must have been sold out... Pesky and Malzone were there signing autographs. Before the anthem, Pesky walked out to Jed Lowrie and they hugged each other. It was great. Malzone hung out with McEwing at third. Joe was a lovely hostess to his legendary guest.
3. The employees of the New Britain Rock Cats (Twins AA) were there, and one woman came and sat behind us in the later innings. And she was screaming her head off. When people turned to look at her, she said, "I know some of these guys personally!" Okay, that's nice, but no one screams that loud for ANYONE. Denard Span's MOM does not even behave that way. Garrett Jones' wife may merely clap politely. What you are doing, Miss, is drawing attention to yourself. So shut up, name-dropper!
4. Junior Spivey comes up to bat and I cannot help but mentally sing, "You remember... Junior Spivey! He contracted... poison ivy!" Spivey is cool. I hope he sticks around.
5. One of the PawSox' little boys has been around before the game, playing warm-up catch with some of the players. He's probably four or five but already looks like a little baseball freak kid. Whose kid is this? He is cute.
PawSox have hit the road and will be back the 18th. They are off tonight but start a series v. the Yankees tomorrow night. Until then.