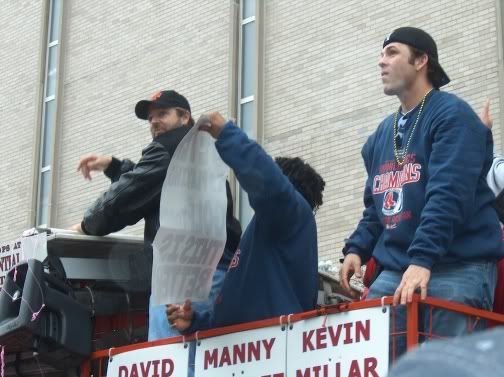 "April 2003, my sisters and I headed out to Fenway for opening day. It just so happened that it was Trot Nixon and Jason Varitek's Birthday as well. My sisters and I cleverly made matching t-shirts that read "Happy Birthday Trot and Varitek!" On the back they read "Opening Day 2003" or something along those lines. We also wore matching Red Sox pullovers that I so generously purchased for my sisters and I. Oh yeah, we were ready.
Unfortunately, the weather wasn't. It was rainy and windy and really cold. I remember we each signed up for a credit card just to get a free knit cap to wear. We stood around and waited for a while. All I wanted was for Trot and Varitek to see our shirts and above all I wanted to see Kevin Millar.
Kevin Millar signed over to the Red Sox that year and ever since Spring Training all I wanted to do was bake that man some cookies. Oh yeah, and watch him play baseball. He was so excited to come to the Red Sox and I was so grateful that he was I thought 'I should do something nice for him.' Everyone loves cookies right?
Opening day eventually got rained out and we finally gave up all hope and left the stadium. As we were walking out I noticed this guys shoes in front of me. Black and blue Nike Shocks. I checked out the rest of his outfit and noticed he was wearing a matching track suit. I also noticed that he walking along side some skinny skank who wasn't his wife for your information! Anyhow, as I was checking out this man he turned around and said something to the affect of "This is crazy!" I saw his face and started to freak out a little. He looked exactly like Kevin Millar. So I asked my sister if she thought he looked like him and she agreed. I wanted to talk to him so bad so I did what anyone would do if they saw someone famous they wanted to meet, I made my sister ask him if he was, in fact, the Kevin Millar….so the conversation went like this:
Vanessa, my sister:"Excuse me, are you Kevin Millar?"
Kevin Millar: "Yes."
V: "My sister loves you!"
Me, freaking the hell out: "Oh no, I just am really happy to have you on the team!"
KM: "Thanks"
V: "Look we made theses matching t-shirts for the game!"
This is when my sister decided she would flash Kevin Millar because her shirt got stuck to the pullover.
I don't know what Kevin Millar said or was thinking for that matter but what happened next was one of the most glorious events of my life. He turned and said "Nice to meet you" and I shook his hand and gave him a pat on the back. Then he was off, walking away with that skank and all I could think about is which kind of cookie is his favorite."