Yes, I meant to type 'Mannyl', which I will explain later. Buffalo
takes it
, 2-1.
Andrew Miller devastated curious fans everywhere by pitching only 3 2/3 innings. In the first inning, Miller gave up a one-out triple to second baseman Justin Turner, who made it home when first baseman Nick Evans later singled. Pawtucket tied it all up in the fourth with an RBI single from JC Linares, right off of Buffalo starter Boof Bonser.
Buffalo scored its second and winning run in the bottom of the fourth. After striking out 3B Zach Lutz to lead things off, Miller walked Ruben Tejeda. And then walked Nieuwenhuis. Then Feliciano to load 'em up!
Was Miller the victim of bad calls? I doubt it!
Karl Best
doesn't horse around! At any rate, Miller was done for the night and Rich Hill inherited the mess on the field. Mike McKenry allowed a passed ball with Pridie at bat, so Tejeda scored. Hill got Pridie to fly out, though, which is great because Pridie is so fucking dangerous.
Hill went on to pitch another pair of innings, keeping Buffalo scoreless. Clevelan Santeliz polished off the remainder of the game, again suppressing the Bisons. Unfortch, Pawtucket was not in a hitting mood... Or they were stymied by the awesome power of the combined relief of Jose de la Torre, Michael O'Connor, Mannyl Alvarez, and Ryota Igarashi. At any rate, innings 5-9 were a series of zeroes.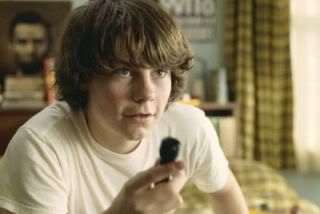 Ronny, Bobby, Ricky and Mike:
1. See that kid from 'Almost Famous'? That is a fairly accurate representation of Andrew Miller's hairstyle.
2. Buffalo reliever Mannyl
Alvarez
' real first name is 'Manuel'.
3. Buffalo catcher Raul Chavez gunned down both Tony Thomas and Ryan Kalish. Good work, RC.
4. Bonser
left the game
right inthe middle of Nate Spears' fourth inning at-bat due to an injury. Schminjury. Maybe you know what happened, but I don't.
5. Okay, it was a 'possible forearm strain'. Thank you,
N. Pugliese
, but you spelled Pawtucket incorrectly. How would you like it if I called them the 'Bufallo' Bisons?
6. Read all about Andrew Miller's
Cape Cod fog game
, which is so legendary that I have never heard about it. Sounds remarkable, though.
7. Andrew Miller threw 75 pitches, 37 for strikes.
8. Hm, PawSox lose on a "pass" ball.
This guy again
.
Tonight! More Bison meat. Brandon Duckworth v Casey Fossum, who is still alive! You should see Fossum, he got really fat.
No, I was just kidding. He's still pretty raw-boned. See you guys later.