Pawtucket WINS! 2-1.
Rochester
reliever Yorman Bazardo took the loss after JC Linares got a hold of him.
I was initially disappointed to see Scott Atchison starting for
Pawtucket
, but it faded once I realized how quickly and efficiently he was pitching. Hell, yeah, it was cold! Atchison pitched 4 2/3 innings and struck out eight, leaving the game after Red
Wings
catcher Rene Rivera doubled to deep center, scoring Chase Lambin for the first run of the game.
Rochester
countered with righty Anthony Swarzak. who pitched an equal amount of innings and struck out seven PawSox kidz.
Rich Hill replaced Atchison in the fifth inning to get the last out, striking out CF Ben Revere and his quart of beer. Hill would go on to pitch 2 1/3 innings and get the win thanks to JC Linares' two-run triple. A triple for the thick guy!
I can't believe Hideki Okajima is on the PawSox and that he pitched last night. When I first heard the possibility that he would be
sent down
, I was surprised he even had an option. Okajima pitched a scoreless eighth, which was cool, but the remarkable thing was Michael Bowden closing out the game in the ninth. I can't believe Bowden didn't walk anybody! He seemed pretty crisp, so we'll see how the off-season treated him.
Jose Iglesias didn't really have an opportunity to dazzle the crowd with his legendary defense, but he did get a pair of hits so it was a good night for him. Daniel Nava doubled. Ryan Kalish went 0-4 and he doubled.
Yamaico Navarro walked. He groused a little bit when he was called out on strikes in the first, which I think is a bad idea this early in the season.
Rochester's
Jeff Bailey did the same thing in the second, but he can get away with it because he's a veteran.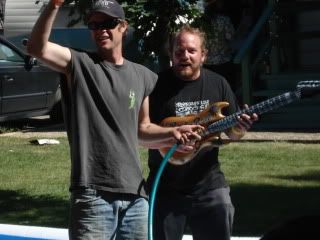 you've got a place to go:
1.
The Ben Mondor tribute
was terrific. They played a slideshow of Mondor photos accompanied by 'What a Wonderful World.' I think he was smiling in every shot. It was very moving.
2. Alfredo Aceves was supposed to start but was called up. Atchison had like, less than an hour to prepare. What a pro. I should tell you an Atchison anecdote, but I am saving it for a cold, rainy day.
3. Rochester manager Tom Nieto did not dig the seven called third strikes on the team, but not because he thought home plate ump Chris Conroy was daffy: "Obviously, you want to put the ball in play with two strikes," he said. -
Rochester paper
4. Red
Wings
starter and IL favorite Anthony Swarzak threw 46 of his 75 pitches for strikes. He did rather well, but shit happens I suppose.
5.
Rich Hill sez
: "It felt great to be able to go out there and do that. Scott Atchison had done such a great job starting for us on short notice, I wanted to keep it up. We all knew the team was counting on the bullpen tonight." Does this guy know how to party or what?
6. Inspector Luis del Rio sang the anthem and GBA. I feel as though he should do it as often as possible. Not because he's such a fabulous singer, but because he moves through the lyrics at quite a clip. No fancy trills and sustained notes, just short and sweet. Thank you, Inspector!
7.
Atchison:
"I was definitely running out of gas."
8. 'Wings Things' Opening day entry (
read it
)
9. Juan-Carlos wants to go by JC, which is 100% okay by me. Maybe he read my blog and noticed how I complain about players with long names because they screw up my hand-crafted lineups. ARE YOU LISTENING TO ME, JONATHAN EUGENE VAN EVERY AND JARROD SALTALAMACCHIA?!
10. Some Rochester TV
video
featuring Jeff Bailey. Don't kill yourself, it's not that gripping.
11. The new PA guy's aight. He keeps it simple, which I appreciate. Not like that freaking Gwinnett Braves PA guy and his game show hostiness.
12.
New uniforms
for Rochester!
13. In
Baseball Outsider's
Anthony Swarzak profile, the author notes 'Chance of making [big league] team: Not going to happen.' What, even though he lost 30 lbs?
Tonight! Rochester and the Red Sox face off once more. Kyle Weiland will pitch and I will miss it. Eric Hacker goes for the Red Wings. Then nothing for a while.
Good night. Wait...