Rich
Thompson
WINS! 8-2. Pawtucket starter Brandon Q Duckworth takes the loss for Pawtucket, giving up eight runs on six hits during 3 2/3 innings. Part of the problem may also have been the five walks. Gee, that's not like him.
Contrariwise, IronPigs starter Brian Bass pitched five very nice one-run innings, then went and combed his hair and brushed his teeth.
Duckworth's tough night began in the first inning, when Rich Thompson and Kevin Frandsen hit back-to-back singles and then pulled off a double steal. Ah, to be young and cocky! Former PawSox muffin Brandon Moss then helpfully sac flied to to right, scoring Thompson.
Lehigh Valley boosted their score up to 3-0 in the second inning when catcher Erik Kratz hit an RBI double after a walk and a single... Problem is, Josh Barfield also tried to scamper home after Larish, but he was thrown out at home by a Reddick-Iggy relay. Kratz advanced to third on a wild pitch and then crossed the plate on a passed ball. Come on, guys, you're supposed to be professionals!
A solo home run by Reddick finally put Pawtucket on the board for a run in the fourth, but the bottom half of the inning is where things went kerflooey. Duckworth got two outs right away, but Barfield doubled, Kratz walked, and Rich Thompson was hit by a pitch. With Frandsen at bat, Duckworth threw a wild pitch and Barfield scored. Frandsen wound up walking, then left fielder Cory Sullivan walked in a run.
And that was it for Duckworth. I wonder what happened? Matt Fox grabbed hold of the reins, but he was stung by a
Brandon
Moss
two-run double. Yes,
Moss will do that
.
That's about it, you guys. Uh, Hector Luna swatted in a run in the sixth but the rest of the night was quiet. Jason Rice pitched the bottom end of the game and kept things air-tight. One of the Lehigh Valley relievers was Juan Perez, also known as one of the nicest Pawtucket Red Sox players of all time. Good to see him still kicking around, but that's how it goes for a lefty.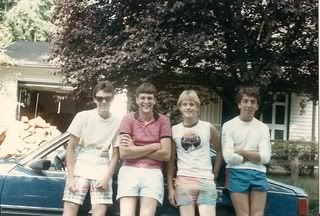 underjoyed:
1. Josh Reddick has done a commendable job thus far. I hope he carries it throughout the season.
2.
Brandon
Moss
went 2-3 with 4 RBI. Designated hitter Delwyn Young went 0-4.
3. For the Red Sox, Hector Luna went 3-4 with a double.
4. Luis Exposito had three passed balls.
5.
Good story
, Jeff Schuler, but Daniel
Nova
?
6. They call him "Duck" worth for a reason: With his two wild pitches, batters had to "Duck" out of the way. Heh heh. Is this thing on?
7. This one's not mine, I swear: "The Georgia native (Moss), who likes using his bow to hunt game, added to his collection by bagging a duck and a fox on Wednesday night."
D'OOOHHHH!!!!!
Tonight! IronPigs lefty Ryan Feierabend v Felix Doubront. Well, well, well, well, well, well, well, well how very nice.