Gwinnett Braves win it, 7-6. Fernando Cabrera takes the loss because he completely blew the save. It was a walk-off home run... no, wait, it was really a walk-off walk for Gwinnett.
Your starting pitcher and total wanksta for Pawtucket was Kris Johnson. Johnson must have felt like a virgin while he was waiting to pitch because the Red Sox kicked things off by scoring four runs. As in, Reddick led off with a triple. Get out! And Nava doubled, scoring Reddick. And Angel Sanchez singled.
And then Tug Hulett tripled! Two triples in one inning! I'm so glad that I am on vacation down in Georgia and I got to see all this live! Okay, not really. But i would have died and maybe I'd still be smiling if Fernando Cabrera hadn't ruined my night.
A walk and a single, everywhere like such as, also turned up in the first inning. Then three outs. But 4-0 for Johnson. The Braves must have been temporarily stunned by the quick lead and didn't immediately answer back. But the runs crept in. One in the second, one in the third, one in the fourth.
Pawtucket pulled ahead in the top of the sixth with some walks and singles and crap. The inning ended when Anderson tried to score from second on a Gustavo Molina single. Left Fielder Mitch Jones got the assist on that one.
The Braves slapped on another run in the bottom of the sixth, but Pawtucket rode the lead all the way into the ninth. Which is when Cabrera pissed on everyone's dreams. I really don't feel like reliving it, but it was a disaster. El fue al garate, y que? Brutal todavia...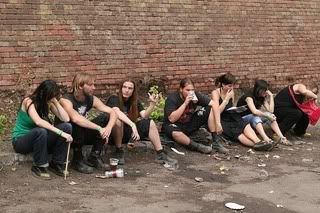 migajas:
1. Shortstop Angel Sanchez went 4-5.
2. I could hear the Braves' PA guy over the radio and he was wretched. He sounded like a game show host. They do commercials during the innings.
Jeff Bergmann
, probably. It's so different from McCoy.
3. Reliever Joe Nelson pitched 1 2/3 innings of scoreless relief.
4. Someone should ask Braves reliever Mariano Gomez if he knows where Jose Vaquedano is.
5. Gwinnett reliever
Cristhian Martinez
got the win. It's an unusual spelling, n'est ce pas? He was a Marlins sometimer last year.
Tomorrow! More me, less you. Until then.