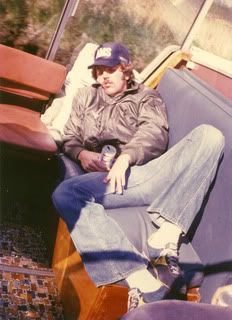 11-2 Braves. Robert Manuel is no longer shiny and perfect, except in the eyes of his parents.
Starter Fabio Castro gets the loss in his mini-start of 3 innings and change. Castro threw 85 pitches and walked a couple of guys and gave up five runs on seven hits. So he's like Adam Mills?
Relievers Ramon Ramirez and Robert Manuel combined to give up the other six runs. Chad Paronto pitched dead last and he was good as gold. No hits and two strikeouts for his ninth inning. WAS THAT SO HARD, FERNANDO CABRERA? Hmm, we might have a new Pawtucket closer hottie: Human burrito Chad Paronto. Why not?
Braves righty Tim Gustafson got the win and no one bothered to get him flowers.
Hey, you know who hit a double? Aaron Bates! Know who hit a double for Gwinnett? Wes Timmons, Mitch Jones, Gregor Blanco, Clint Sammons, and Brandon Hicks. Lets see, that's five guys, five doubles, right?
WRONG. Timmons, Jones, and Hicks each hit two doubles. So that's eight doubles. Must have been a freaking party in Georgia.
So, when can we get Darnell McDonald back?
DUI:
1. Shortstop Angel Sanchez went 2-5. Angel Sanchez > Angel Chavez at the plate. In fact, don't you think it's a little strange that a guy like him is leading the team in AVG? And he's fourth in OBP? His strikeouts are low, too. He's only got six.
2. Nice work, Angel Sanchez. I am recognizing your contributions even though you're not a prospect or a farmhand or an exciting youngster. You'll never be overlooked by someone like me.
3. In a related story, Daniel Nava is leading the team in strikeouts. He's second only to the absent DM in slugging categories, though, so... yeah, K's and home runs go hand in hand when you're a "power hitter". I wouldn't call Nava a real power hitter, but he's as close as we have right now. But yeah, he's great.
4. Welcome to the family,
Niuman Romero
. Please note that I refrained from saying 'Hello', even though no one else will. I guarantee it.
5.
Everyone
on the Braves had an RBI except Gregor Blanco and Matt Young. Third baseman Wes Timmons went 4-5.
6. Joe Thurston's still on the G-Braves. They are fortunate to have him.
Tonight! Michael Bowden and righty Jamie Farr. Whoops... James Parr. A guy like Bowden should have a righteous, rock-hard fastball. Why is this not the case? He's fricking built for it.
Later!