6-0 Red Sox. Wow, I was really crabby in that last post, huh? I feel much better. I LOVE YOU, BUBBA BELL!
It's funny how I have so much love for Twins alumni but I find Bonser so uninteresting! Anyway, former Twins megastar Boof Bonser had an encouraging start, pitching four scoreless innings peppered with two hits and two walks. Bonser also struck out Brent Clevlen and Barbaro Canizares.
Pawtucket kicked off its hot, wet scoring action pretty much right away in the first inning. Daniel Nava hit a two-run homer and you really need to shine this guy's shoes because he is Real Ultimate Power. Either that or he is a made up person and all of this is a dream. Like when Hawkeye was in a rowboat and he had no arms but there were all these severed arms in the water and the boat bumped them out of the way as it floated.
The second inning was great, too. Lars Anderson kicked things off with a walk, Dusty Brown singled, Jorge Jimenez singled. Bases loaded, no one out, Braves starter Todd Redmond's balls are starting to sweat. And Bubba Bell hits a two-run single! Then Josh Redneck singles but no one scores. But Daniel Nava was
a cool dude in a loose mood
and flied deep to left so Jimenez to score. 5-0 PawSox!
Daniel Nava got the sixth and final run for Pawtucket in the fourth inning, when he hit an RBI double. Pull up a mouth, because the hit buffet is unstoppable. (Sorry.)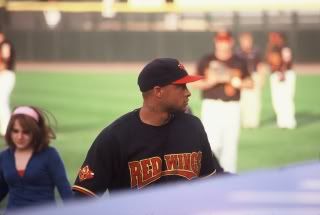 of course you may have other plans:
1. When is Darnell McDonald coming back? I am dying, here.
2. PS, that photo of McDonald is MINE. I didn't steal it for once. Taken in Rochester, along with several Garrett Jones snaps.
3. Is it me or has
Brent Clevlen
been in the IL forever? He's like John-Ford Griffin or Mike Rabelo. Or Ryan Raburn. Or OHMYGOD ENRIQUE GONZALEZ IS ON THE MUD HENS???
4. Tug Hulett continues to struggle, going 0-4 with a strikeout.
5. Fabio Castro is like Edgar Martinez or maybe Enrique Gonzalez. Castro pitched four innings of scoreless relief. TJ Large handled the ninth inning. The team's not really touchy-feely, though, so no one hugged anyone or anything.
6. Same newspaper:
Five sentence game summary
. Geez, don't kill yourselves. Must suck to be a Gwinnett fan.
7.
These G-Braves snaps
are baller.
Tomorrow! Do you like
Ryne Reynoso
? Good, he's pitching tomorrow v Kris Johnson. I'll be kicking at at KP's for TV Thursday.
DANNY NEVADA!!!