Pawtucket loses in exciting fashion, continuing a suspended game and never quite fitting in. DURHAM BULLS EFFECT RUNSPLOSION,
WIN 18-1!!!
Your Pawtucket losing pitcher was... I don't know, everyone except maybe Robert Manuel? I mean, Boof Bonser started and gave up seven runs in a single inning, but TJ Large's pair of innings wasn't exactly an oil painting, either. Large matched Bonser's seven earned runs.
Ramon A Ramirez, who I am dying to call "Ramona", managed to keep the Durham runs at three during his 3 2/3 inning tenure. That is some long relief. Ramirez threw like 40-something pitches.
Durham DH
Dan Johnson
had eight RBI. Remarkable. Tough name, though. DJ, Google is not your friend.
Bulls righty Richard De Los Santos got the win.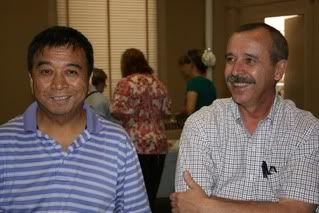 arithmetic:
1. Read Mike Potter's terrific game(s) summery
aqui
.
2. How did Pawtucket score its sole run? A Bubba Bell productive groundout that scored Dusty Brown. Happens all the time.
3. Fernando Cabrera got into
a heated discussion
with home plate ump Fran Burke in the second game, presumably a balls/strikes thing. But it would have been interesting if it was something like Burke's wife hooking up with Cabrera... I have tabloid-ish tendencies that I work hard to suppress, obviously.
4. Gil Velazquez got into his first Pawtucket game of the season. Velazquez went 0-3 with a walk.
5. Good talk, Dusty: Brown had a throwing error and two passed balls.
6. Not only that, but Durham stole four bases on Brown's watch. Tough night in North carolina.
7. Someday I will tell you about my trip to N Carolina. Yeah, I get around.
8.
Aneury Rodriguez
started this game and worked a mere two innings, most likely due to the suspension. Game suspension, not drug. Rodriguez is also
not hot
.
9. TJ Large hit Justin
Ruggiano
twice. Maybe Ruggiano has a big fat ass?
10. Angel Chavez! Chavez went 0-4 but had two RBI.
There.
Tonight! Kris Johnson and Jeremy Hellickson. I'm kind of enjoying my exclusive blog, but at the same time I am too much of a showperson to keep it locked up much longer. Ciao!