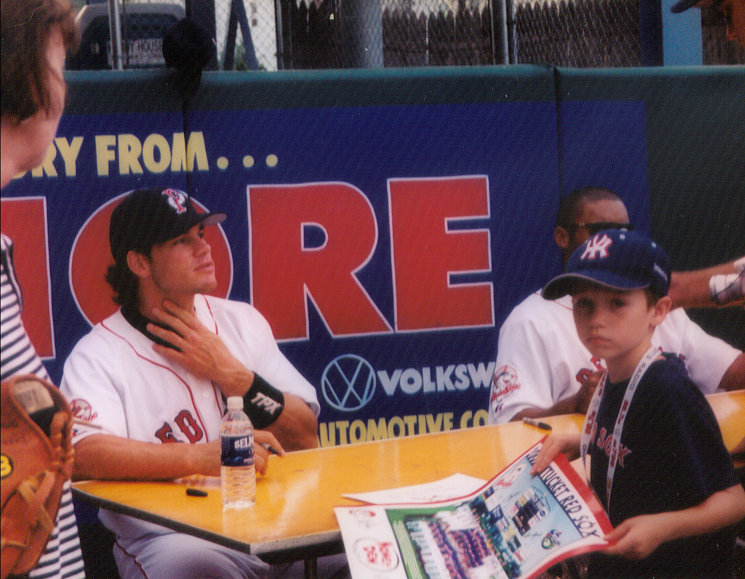 1. Abe Alvarez - Playing independent baseball (Atlantic League)
2. Raymond "Chip" Ambres - Playing for the Padres AAA team.
3. Jeff Bailey - Still here!
4. Tim Bausher - Played on and off with the Can-Am League's Nashua Pride. Was resigned in 2008, but does not appear on their roster.
5. Mark Bellhorn - On the Dodgers AA team in Florida.
6. David Berg - Retired.
7. Ricky Bottalico - Retired.
8. Jim Buckley - Retired.
9. Scott Cassidy - Retired! Wow!
10. John Baptiste "Jack" Cressend III - Retired, doing baseball camps down in the swamp.
11. Manny Delcarmen - YES!
12. Marc Deschenes - Retired, lives in Mass, is a pitching instructor.
13. Lenny Dinardo - Up and down with the Oakland A's.
14. Luis Figueroa - Iowa Cubs, AAA.
15. Geremis Segundo Acosta (Alias Geremi Gonzalez) - Deceased, sadly.
16. Tim Hummel - Retired, I guess. It's so hard to tell.
17.
Adam Hyzdu
- Played in Japan in 2007. Probably not currently playing. Click link to get to his audio files, which are great.
That's all for now. I just wanted to get to Hyzdu.