4-2 Charlotte!
Starter Clay Buchholz pitched five innings. He gave up three hits, walked two and struck out three. I read somewhere that his performance was "outstanding", but the numbers don't really show that.
Hulking reliever Hunter Jones followed and erased all his good credit in one inning. Jones gave up four runs in the sixth inning but still came out and pitched the seventh. Only in the minors! Jones had a routine, scoreless seventh. Chris Smith pitched a 1-2-3 eighth.
Righty
Charlie Haeger
started for Charlotte. And yeah, he's got a knuckleball. Knuckleballs seem to be the 'It Girl' of 2008. Like Barcelona around 2000. Haeger gave up two runs in six 1/3 innings. He walked a pair (he hit Bailey and Thurston with pitches) and struck out Danielson, Van Every, and Bailey twice.
Scott Sauerbeck came in to, I guess, complete the seventh inning, but kicked things off by walking the first two batters. Please tell me why this guy has a job. Sauerbeck was released by the Reds about a month ago, leaving their AAA team with a 9.00 ERA. And now here he is, picked up somehow by Chicago... and he's got a 9.00 ERA again! Has he ever been considered an effective reliever at any time, let alone the past 5 years? What a joke.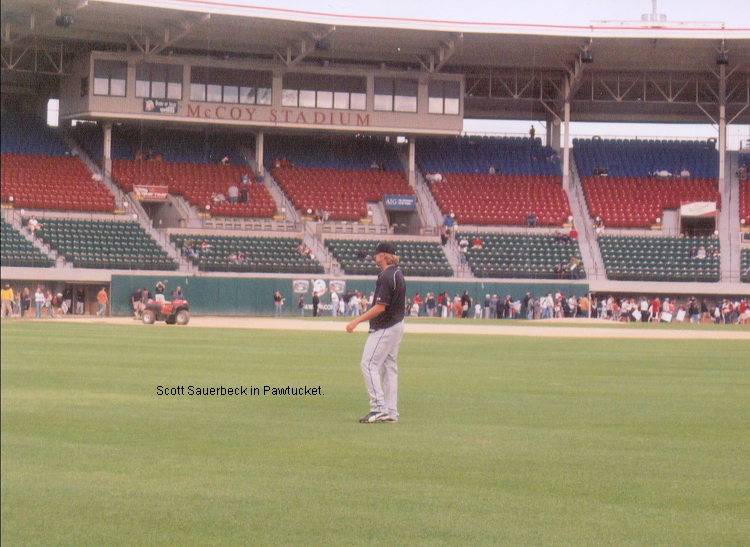 So Mike MacDougal comes in... oh my god, is this where he is now? Mac polishes off the seventh and goes on to pitch the eighth... SCORELESSLY! (I just made that word up, I think.) MacDougal had three strikeouts as well. Jason Childers pitched the ninth and got the save.
Only Jed Lowrie got a hit in this game. So how did the Red Sox score two runs? Well first Joe Thurston was hit by a pitch in the seventh...then Haeger throws a wild pitch or two and Thurston winds up on third and Ginter sacs him home. Sauercrap comes in and walks in a run. Also during this inning, Bobby Kielty and manager Ron Johnson are EJECTED!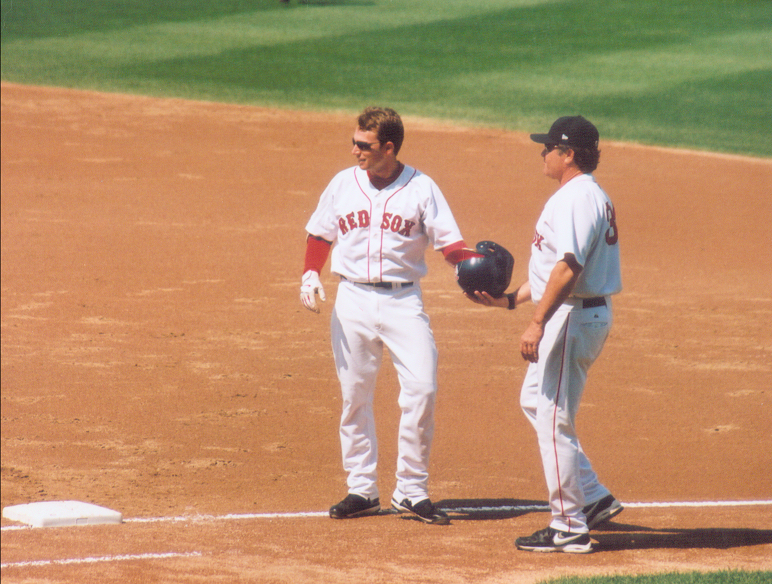 Jeff Bailey struck out three times.
For Charlotte, designated hitter Josh Fields hit a triple.
let's skip ahead to the ejections part!
1. Bobby Kielty was ejected for arguing balls and strikes. Then Ron Johnson came out and argued with umpire Justin Vogel and... ejected! Keith Ginter stepped in for Kielty. Hitting coach Russ Morman took over for RJ.
2. I have a theory. I think that in a weird way, Sean Danielson coming to Pawtucket from Portland is a demotion! I think the people in charge of the whole thing wanted Mickey Hall in Portland and said, hey, Danielson is adequate enough for Pawtucket! We'll tell him he's being promoted! Because it's sure as hell not because they care so much about Jeff Corsaletti and Jay Johnson. Like... why NOT Corsaletti? Bitches. Sean Danielson is stupid and I'd rather see someone more interesting in right field.
3. Remember that time Mike MacDougal was at Fenway with the Royals and he hit Johnny Damon and someone else with consecutive pitches or something? I don't really remember exactly what happened. But remember Desi Relaford? That guy was the man!
4. Jeff Bailey continues to be hit by pitches more than anyone I've ever seen. It HAS to be him hanging over the plate. Bailey is by no means an asshole or someone people might love to throw at.
5. I watched that Padres/Cubs game last night... I really wanted Maddox to get the win! I got a little emotional watching it. Great game.
5. Wait, okay,
this is what happened
: The year is 2003. It's April 30th at Fenway... the Royals are in town. It's the bottom of the ninth and the Royals are ahead 4-2. Mike MacDougal comes in... skinny kid, crazy red hair. Todd Walker singles and advances to second on a wild pitch. Nomar is up... hit by pitch! Then Manny! Manny singles, Walker comes home! Millar sac flies out to right, Nomar comes home! Tie game! Shea Hillenbrand steps in... MacDougal hits him! Another pitcher comes in, faces Damon... hits him! Varitek, the next batter, reaches base on an error by Mike Sweeney and I guess Hillenbrand scampers home. That was crazy! WIN.
6. Joe Thurston was on the Phillies' AAA team in '06 and '07. And then they
stopped
calling him. Oooh, classy.
7. Please tell me why I should give a crap that Buchholz did not get the win. I'm sure he's not all knotted up about it, either. He's just rehabbing, and probably not too thrilled about being on the road with Boston's minor league team.
Tonight's matchup: David Pauley, Lance Broadway. Seriously, kill the Knights. I don't want to read headlines like, "KNIGHTS USE LANCE IN BATTLE" or "KNIGHTS' LANCE SKEWERS SOX". Have a heart.