4-1 Pawtucket
!
David Pauley went seven innings deep and in spite of some hits given up in the early innings, he looked pretty good right in the middle there. Yeah. Pauley gave up one run on four hits and struck out nine of those zany Braves hitters. DP has improved his record to 10-2.
Mike Timlin stepped in and very politely got the three batters he faced out. What I also thought was cool was that Timlin sat in the bullpen until he was called in. A lot of rehabbing relievers don't budge from the clubhouse until later in the game. And yes, he was wearing camo under his Pawtucket uni.
The man, the thunder, and the lightening Hunter Q... wait a minute, Hunter Jones is
not his real name
? Well, Doctor Jones pitched the ninth. He gave up a hit but nothing came of it.
Richmond's Chuck James pitched five innings and kept walking people. He only allowed one run, though. It was three-inning reliever Matt Desalvo's fault! He blew it in the seventh inning when Lowrie hit a two-run double.
Bryan Pritz and Keith Ginter have been surprising me lately. Many baseball players say that hitting is contagious. It is one of those stupid things baseball players say, but maybe. Pritz is currently leading the PawSox with his .319 batting average.
He is a feather in the wind
.
Joe Thurston walked three times, was picked off and caught stealing. I heard on the radio that he is a big Stevie Wonder fan and went to the concert the other night. I am dumbfounded! I didn't know baseball players listened to anybody good.
Barbaro Canizares got the sole RBI for Richmond.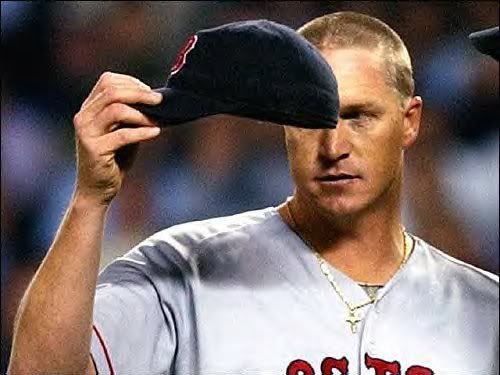 until the day that you are me and i am you:
1. Chuck James won the Phil Niekro Award, given to the top pitcher in the Braves' minors.
2. Canizares is probably
lying about his age
. And he has something in common with PawSox lefty Michael Tejera - both are Cuban defectors! And they both love toast and jam!
3. Barbaro C. was also booted off his Cuban team when he was caught trying to defect in Miami in 2004. There's also a weird story about him selling his Cuban jersey to a fan in Cuba, and the fan turned out to be some kinda US Immigration official... I don't know.
4. Jonathan Van Every has ZERO errors thus far.
5. Ron Johnson has done an excellent job working the lineups, getting people work (or LESS work, depending).
6. You know, sometimes an infielder might struggle at their position, so you move that player to first base, which is generally reserved for thick-skulled mashers who don't field good. It really looks bad when you make an error at first right out of the gate. Especially when your BA is below 200 and your OBP is .250. At least the other guy who can't hit for shit is a decent fielder.
7. And way to be a rally killer.
Pawtucket hits the road tonight. I'll catch up to them in Syracuse. Yeah, I got pretty good seats at that park. I'm in the dugout, seat 5, in between Devern Hansack and the giant water dispenser.
INSPECTOR GADGET!!!!