Pawtucket WINS! 8-6 in ten innings thanks to a Jonathan Van Every walkoff. It was so awesome I almost grabbed my coat and headed down to the park to catch the late innings!
So Edgar Martinez started and guess what? He did pretty well, going 5 2/3 and giving up a two-run homer to Alex Escobar in the sixth. But that was all, even though Escobar tied the game right there. Martinez struck out seven batters and walked two. And that was it for the most handsome man on the PawSox.
Miguel Asencio appeared next and ran into some trouble in the seventh inning... he loaded the bases with a single, a walk, and a hit batsman. So Michael Tejera cam in and gave up a grand slam to first baseman Larry Broadway! Yikes! That GS tied the damn game for the next three innings, but the Clippers could not score. So next time you see Lincoln Holdzkom and Hunter Jones, embrace them warmly and thank them and buy them coffee. Especially Holdzkom, who pitched two-plus scoreless innings.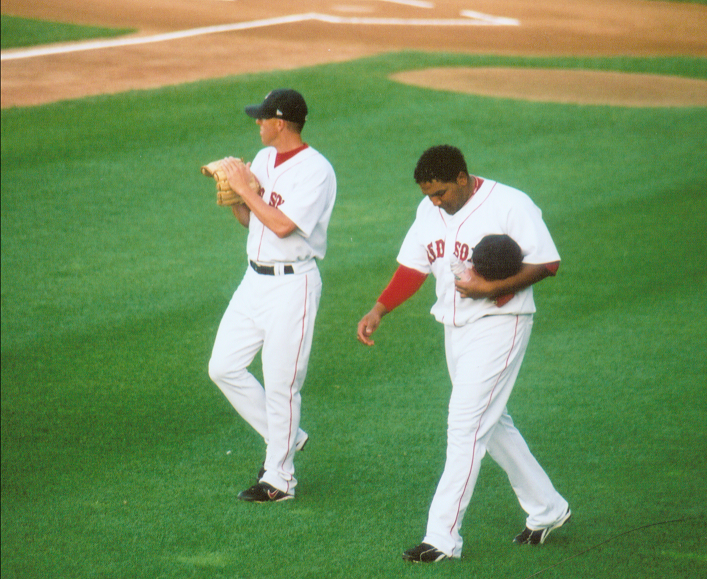 Baby boy Shairon Martis started for Columbus and pitched five innings, giving up four runs on seven hits while striking out 8. Zechry Zinicola and Jim Ed Warden both pitched for a little while, but it was Mike Bacsik in the tenth that Van Every homered off.
You know what, this game was better seen/listened to than written about. It's just not happening for me this way. Go read the
box score
or better yet, watch the game in archives. I guess you have to have the capacity to be excited by a Pawtucket Red Sox game. Trust me, it was great.
Sorry. GO PAWSOX!!!