3-2 Pawtucket!
David Pauley started for Pawtucket. He only gave up ten hits in seven innings! Well, it was only two runs, and Pauley left the game with the score tied at 2.
Lincoln Holdzkom pitched a mildly shaky eighth inning, giving up a walk and a hit but no runs. I would have been dying during this inning, with the game tied and Holdzkom pitching. At any rate, he got the win. Jon Switzer handled the ninth inning rather well, striking out Brennan King to end the game. Good work, relievers.
The undeniably sexy Steve Green started for L. Valley. Green pitched four scoreless innings and struck out six Pawtucket batters. Damn! Let's see, he only threw 65 pitches, so I guess he's rehabbing or something?
Lefty Robert Swindle jumped into the game for three innings, allowing one run. Swindle walked one and struck out four. Jason Anderson blew the save in the ninth inning... with two outs, George Kottaras pinch hit for Gil Velazquez. Kottaras walked. Van Every comes up... and singles! Kottaras to third base! Chad Spann pinch runs! Jeff Bailey gets an infield single and Chad Spann scores!
All of this would have been awesome if it were a home game. But Lehigh Valley had to finish off the ninth with some anti-climactic groundouts.
No one got any extra base hits for Pawtucket. It was all small ball, Paul. Jeff Bailey went 3-4 and got the game-winning RBI.
For Lehigh Valley, second baseman Oscar Robles homered off Pauley in the seventh inning. Aside from that, all singles. Ten of 'em.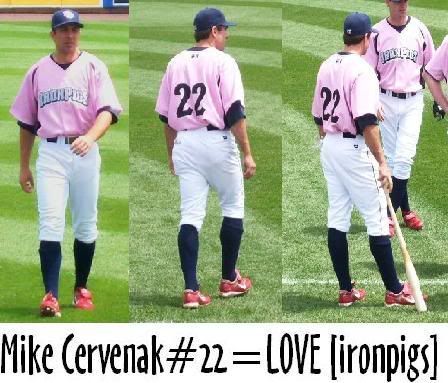 so and so from wherever, wherever:
1. Oh, I get it... Steve Green is a relief pitcher. Well, nice job, Steve!
2.
Embarrassing
: "Two costly base-running mistakes doomed Lehigh Valley in the game. Rich Thompson looked to be on his way to scoring in the 1st on a single by Mike Cervenak but he fell down as he rounded third base. Thompson got up and headed for home where he was tagged out by Brown on a great throw by Pawtucket CF Jonathan Van Every.
Then in the 6th, Lehigh Valley had Thompson on second and Cervenak at first with nobody out when both were put in motion with Andy Tracy at the dish. Both runners were sent in motion but Thompson stopped halfway between second and third and Cervenak did not notice and both runners were converging on the second base bag. Cervenak then began to retreat back to first and was tagged out by Bailey."
3. David Pauley is now 8-2 in 13 games.
Good game, everyone. Wait... not you, Keith Ginter.