Third straight loss. 8-7
David Pauley pissed on all your expectations by allowing seven runs in 6 1/3 innings. Oh, so only four were earned? Uh-huh. Thanks for the error, POSITION THREE!
Michael Tejera finished the game off and was slapped with the loss.
Adam Pettyjohn! Pettyjohn pitched five innings and gave up five runs on eight hits. Some other guys pitched...Tyler from Vermont (probably a hippie, no doubt), Todd the Redneck, and Josh. Josh is a Leo and he likes crabs or something. They have some pretty boring relievers, the Bats do.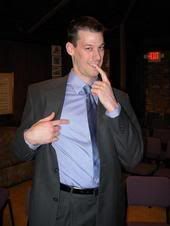 Joe Thurston, Keith Ginter, Kottaras, and Chris Carter all doubled. Thurston also homered! JV hit a home run as well. It makes perfect sense to me that he is batting last... and Chad Spann is batting seventh. Ginter batted sixth yesterday, also. I would like to see Van Every bat fifth, Ginter a little further down, Kottaras 8 or 9 until he heats up again, and Chad Spann on the AA team of the Texas Rangers. Yee-HAW!!
Louisville also had four doubles! Drew Anderson, Jerry Gil, Adam Rosales and Andy Green all wound up chatting with Jed Lowrie as they struck poses on second base. Joe Thurston wisely kept to himself and plotted revenge.
Andy Green homered off Pauley in the fifth. It was awesome.
two things:
1. I purposely transposed Jerry Gil's first and last name as an homage to the late, great Geronimo Gil (no relation).
2. Jeff Bailey has missed the last couple of games with a sore hip. He should be back tonight.
3. Hey, everybody! Bryan Pritz is back! What a pimp. Don't you wanna get with that?
I'll be at the park tonight on the crappy third base side. Edgar Martinez starts again for Pawtucket! He faces Ramon Ramirez. Wait, THE Ramon Ramirez?
Although he's a little fluffy and has very strange hair, Edgar may be the best looking guy on the PawSox. Yeah, I know, the ladies love Chris Carter, but he's so generic. And a corporate conformist! SMASH THE STATE!!! ASSASSINATE LOUISVILLE!